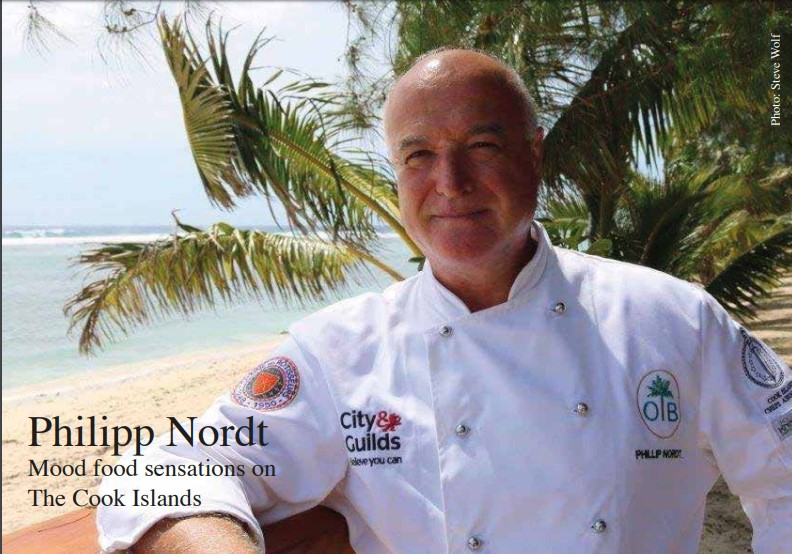 INTERVIEW By: Journaliste Margaux Cintrano
Veteran Chef Phillip Nordt, was born and raised in the autonomous wine region of Landau in der Pfalz, on the
German Wine Route, close to the border of Alsace, France. Landau lies just east of Europe´s largest contiguous forest, Palatinate. The combination of European epicurism and The Cook Islands delicateness, that characterises Chef Nordt´s cuisine, luxurious and yet, dazzling delighting with tropical sublimity, that mingles with spring and summer temperatures all year long.
MARGAUX: What and/or who were the catalysts that stimulated your interest in becoming a Chef?
PHILLIP: Dining at Illhaeusern, Cheval Blanc, Crocodile Strasbourg with my family every Sunday during my teens.
Our family loved food and we had our own chef at home. She was a first class chef from Hungary and cooked really
interesting and tasty dishes. We also had 20 rows of 100 m long orchard, of fruit, vegetables and even an asparagus
field, just for our home kitchen use and I sometimes had to go around with a wheelbarrow to give the asparagus away, in our neighbouring streets, when I was young.
MARGAUX: Let´s take a walk down memory lane. Please tell us, where did you study and what were your internships like at that time?
PHILLIP: I studied at College Monte Rosa Montreux and College Rosehill St. Gallen in Switzerland and also, where I also studied, Hotel & Tourism in Vienna, and then I was a management trainee at Vier Jahreszeiten Munich.
Many years later, I owned my own Boutique Hotel & tourism company, started up, and opened first-class restaurants
& lodges and had been the finalist and winner of the Restaurant of the Year at the New Zealand Salon Culinaire,
some years later. I received my Bachelor of Arts in the Culinary Arts in Dunedin, New Zealand and had become a Culinary Arts Lecturer.
MARGAUX: What is your culinary philosophy?
PHILLIP: "MOOD FOOD" EXPERIENCE………
Having grown up as a self-proclaimed gourmet, TASTE for me, is still the most important of our five senses and everything rotates around this. Every chef has common goals like sustainability, local, organic and fresh ingredients, and this also forms part of my philosophy, but furthermore, my philosophy is in research and to find new and interesting local food sources and transform them into culinary stars.
Henceforth, finding new combinations and creating a new cuisine is at the very core of my philosophy and that's what I do in Rarotonga; creating a new island style cuisine with health benefits called " THE MOOD FOOD" EXPERIENCE, which has been influencing our guests with feel-good edible items, specially created drinks, cocktails & wines, which create an amazingly relaxed ambience amongst the diners, without them noticing. The whole dining experience is supported with low keyed music, lighting and customer service.
MARGAUX: Spring and Summer are a very special time of year, and with this in mind, what do you serve to distinguish these seasons, and could you, tell us about the products you prefer to implement in your creations during the Green Season and summer?
PHILLIP: "SPRING AND SUMMER CUISINE IN THE SOUTHSEAS" ..
We create exceptionally extraordinary colourful vegetarian and seafood dishes, for example, various kinds of Ceviche and house-made pasta creations etcetera, however, we also have local goat, hogs, pigs and naturally fed chickens/hens, which are implemented on the menus.
Ceviche of Koriri (Pearl Meat), is prepared with green onions, fresh fragrant local ginger, fresh habanero chilli, coriander, bush peppers, red scallions, fresh Mango and Miri (fresh bush basil), a combination of different varieties of limes, mint & mustard leaves, and Carpaccio of Octopus, with mustard leaves, a secret "tropical salsa", and "Ika Mata" fresh tuna with fresh lime, seasalt & freshly pressed coconut cream. Some of the other local dishes include:
Escabeche of Maroro (Flying Fish)
Tataki of Spring Goat, Matavera Orange Char-grilled local Goat chimmi churro, warm salad of spring vegetables, onion/chilli piperade, goat jus provençal.
Sugar cured Bonito, salad of Rapa Rapa & Arugula, melon/red onion/black pepper salsa, A duo of Game Fish, grilled plantain, Okra, snake beans, coloured baby capsicum, citrus sauce & soya beurre noir Chilled Guava Soup, Banana & Lime, Mango, local Vene Vene Sorbets, Pimento Tuille, Coconut Granite Vacherin with tropical fruit sorbets, berry coulis & coconut rum sabayon Pacific Chocolate Soufflee-hand unmoulded, oven roasted mangos, strawberries & their coulis
MARGAUX: How and why, the Cook Islands?
PHILLIP: Since I was young I was dreaming about the South Sea Islands. I travelled the world many times over and through most of the Islands in French Polynesia and the Cook Islands and Rarotonga is the only place I would want to live, it's the Vortex, the place of happiness and possesses stunningly amazing beauty.
Every Cook Islander is a Gourmet, and the natives, the KUKI AIRANI, are an ancient people of royal descent. They love their food and food products, versatile, healthy and fresh.
I love Fish and Vegetables and experiment a lot with different applications. My family has produced chiefs and landowners. We have an Avocado Plantation and are starting to grow our own organic fruits and vegetables.
Everything grows here. If you break off a stick from any plant and put it in the ground, in a few weeks, you have got a plant growing. it's like magic. All seafood products are freshly caught daily and go straight into the kitchen.
MARGAUX: Please tell us, about your gastronomic aspirations for Spring & Summer 2017.
PHILIP: Colours and big fresh Flavours dominate our new Spring Menu. We found new produce like sugarcane
sprouts, water bamboo leaves, candlenuts, ancient types of indigenous guava fruit, avocado, yams, different kinds of
local mustard leaves, spinach and pinapi. The young taro leaves are freshly prepared, and as they are normally, quite
large, they are prepared as one would prepare collards or creamed spinach. We use the tiny young leaves and steam them with fresh baby ginger and octopus with fresh renga (turmeric) and local onion shoots.
THE LOCAL MARORO FLYING FISH .. AND SHELL FISH VARIETIES ..The local Maroro flying fish, local Koura (fresh water crayfish), and all types of game fish are on the menus and prepared and presented in a light & fresh style. Locally raised young kid, and local pork, compliment the
meat-free Spring and Summer cuisine This Spring we are starting to implement a brand new
island style cuisine, which had taken us 2 years to develop. Of course its fresh local produce is constantly renovated
and prepared in new ways with a real contemporary twist.
MARGAUX: Have you authored any books, seminars, courses, blogs, newsletters or a website?
PHILLIP: I had a blog called "the truffel room", with sort of a hospitality review panel and an experimental publishing site for chapters of my book. I had huge amounts of people responding and commenting, but I am just too busy to dedicate my time to it and stopped at Rarotonga, a whole new chapter and I decided to focus on FB, more, instead of my blog…
I am working on a culinary immigrant story (my Biography/Cookbook) which spans 30 years of culinary development in New Zealand and the Pacific. I am guest speaker at Food Design Seminars & lecture on various aspects of Pacific Cuisine. I am also writing a fishing column for Escape Magazine, designed to emphasize on using traditional and alternative preparation methods of the fish caught.
MARGAUX: If you could take one month to travel to any gastronomic dream destination for you, where would you travel to and why?
PHILLIP: I am tempted to say it would be Japan again, as I did a stint there in the 80's and I learned some of the most important lessons about cuisine and its preparation, flavours and presentating , but it is going to be France, back to where it all began and I love France, especially Southern France, its people, terrain, cuisine and its wines.
After all my studies, French Mediterranean gastronomy is still my passion and influences of its epicurism can be easily seen in my island style cuisine.
I have an addiction and affinity to the French way of life. This starts in the morning with croissants or a baguette and French roasted espresso from a street café while watching life go by and continues into the afternoon with a sip of a dry Muscat or 51 Pastis, continuing on to Amuses Boûches or Tapas, followed by flavorsome dishes al fresco.
Watching the way chefs work in their kitchens, the wonderful rustic flavours of dishes like "gambas a la brochette", grenouille provençal or just a bouillabaisse made at the last minute at the table and gueridon dishes. There are places I want to re-visit like the Cote d'Azure, Cuisinier Alain Ducasse, a favourite as well as some of the smaller back country auberges are on the agenda to re-visit.
Yes, its France for sure ..